Doylestown Borough History and Amenities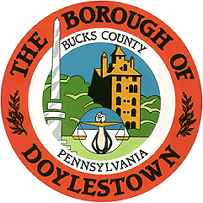 Although Doylestown's origins date to 1745 when William Doyle obtained a license to build a tavern on what is presently the Northwest corner of Main and State Streets, Doylestown Borough's role as a governmental center dates to 1813 when it replaced Newtown as the County Seat of Bucks, one of the original counties created by William Penn in 1682. With the Courthouse came the various branches of County Administration and as an outgrowth, the development of "Lawyers Row", a collection of Federal Style Offices around the Courthouse that marks Doylestown as the legal center of Bucks County.
Doylestown was built on the tract that William Penn conveyed to the Free Society of Traders in 1682, originally containing 20,000 acres. The name "Doylestown" was apparently derived from the innkeeper William Doyle who obtained a license to keep a public house in 1745 known as "Doyle's Tavern". This building, once the Fountain House and currently a Starbucks, is located at the northwest corner of the intersection of Main and State streets in Doylestown Borough.
Fully embracing the future while preserving the best of its abundant heritage, Doylestown has evolved into an area where exceptional people and industry, classic architectural forms, history, recreational fun and a picturesque landscape all combine to create a unique American identity, and where every day, residents and visitors alike sense its well-secured place in the stream of time as a truly one-of-a-kind community.
Relevant Links:
Doylestown Township Bucks County Economic Development Corporation
Doylestown Borough Route 202 Bypass Mercer Museum
Michener Museum Doylestown Wiki Doylestown Hospital
Bucks County Courthouse Bucks County Bar Association Doylestown Historical Society
Demographics:
2012                  1 mi.               3 mi.            5 mi.
DAY POP.      19,521           47,809       92,912
HOMES           3,946           12,311         31,455
AVG. INC.    $89,131     $114,523    $127,515